Wild Feasts in Hay-on-Wye, Herefordshire
Whether you are staying guests, live locally or holidaying in the area, you can come visit the Farm and enjoy street food dinners or treat yourself to our 3 course Braai Nights, Sunday Lunches or one of our specially curated wild feasts served in our heated barns or outdoors at a table in a field, for a real foodie experience you won't forget.
Our food is a celebration of the seasons, based on fresh seasonal ingredients direct from the fields, grown organically on the farm, locally sourced or foraged from hedgerows around us. We pickle, powder, dehydrate, ferment, make syrups and freeze as much as we can when produce is bountiful to use all year around.
If you would like us to cater for a special celebration (anniversary, engagement, birthday, wedding) or for your company works do,  do get in touch
We are South African and experts at cooking outdoors on open fires just as the Drovers did here many moons ago. The smokiness adds to the overall flavour of our naturally grown, ethically produced ingredients. You will dine in our heated barn, farm courtyard or outdoors in the fields under the trees. Our fully stocked bar serves farm inspired cocktails as well as a selection of local gins, beers, cider & wine. We are up in the hills and as a loyal guest put it  "an undiscovered gem of a secret I want to keep all to myself so it doesn't get booked up" 
We look forward to meeting you on the farm
Group Xmas Parties
We are now Booking for Group Xmas Parties. These are private. Min 20 people. We may have more than one group on your particular night in our large heated barn. We have 2 menus a £55 a person menu and a £35 pp menu. The £55 pp menu is discounted for 20 people or more. Treat your staff to a xmas do they won't forget. Spoil them for the hard work they have put in for the year and bring in the Festive cheer in style. We have a large festive barn, beautiful tables, candles, a music and a bar licence and a fabulous fire kitchen that will be bring you a feast worthy of a xmas do. Too see more click here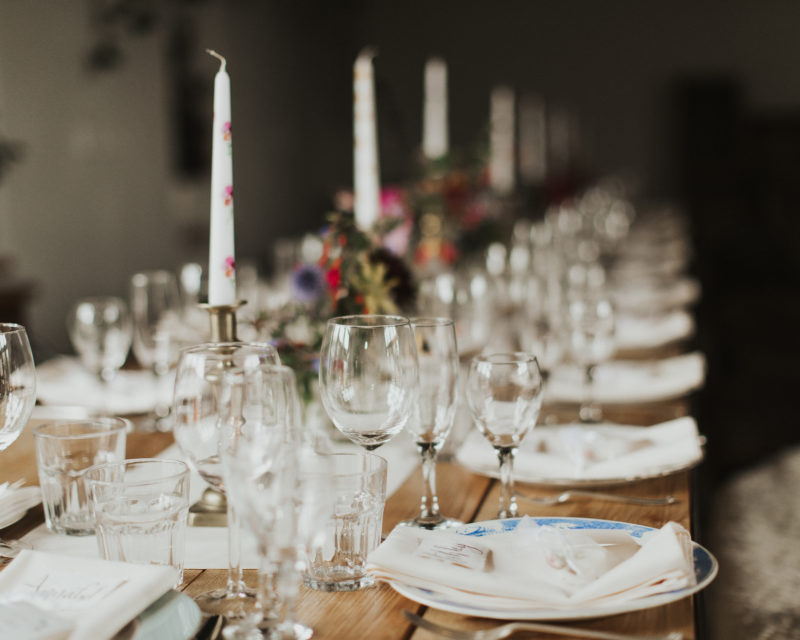 Farm Kitchen
Every Friday we serve our famous street food dinners. Taking you direct to the streets of Mexico, India, South Africa, Italy, and the USA. We alternate each week, check out our feast page to see what's on
On Saturdays is our signature 3 course Braai (BBQ) Night. It's been revamped to bring you a meat feast like no other. Where we will be BBQing meat you would not ordinarily do yourself on the BBQ
And on Sundays it's our famous our 3 course Sunday Lunch. No where will you be getting 3 meats with your Sunday lunch, all cooked on the fires.  Click Here to book Sunday Lunch
Although we are meat orientated we do some stellar veggies on the fires too. (BBQ) for the veggies, vegans and flexes out there. We cater for all dietaries just let us know so we can prep for you
We will announce our next specially curated wild feasts on our socials so be sure to follow us. As we have limi8ted space for these.
During School holidays we put on more street food nights for you top enjoy
Why not combine your Feasting with a DIY Farm tour from only £5 pp.
Click here to Book an Educational Farm Safari
Click here to Book a DIY Farm Trail
To find out more about our Farm Visits Click Here
We also cater for Groups, special events and parties on the Farm. Contact us to find out more.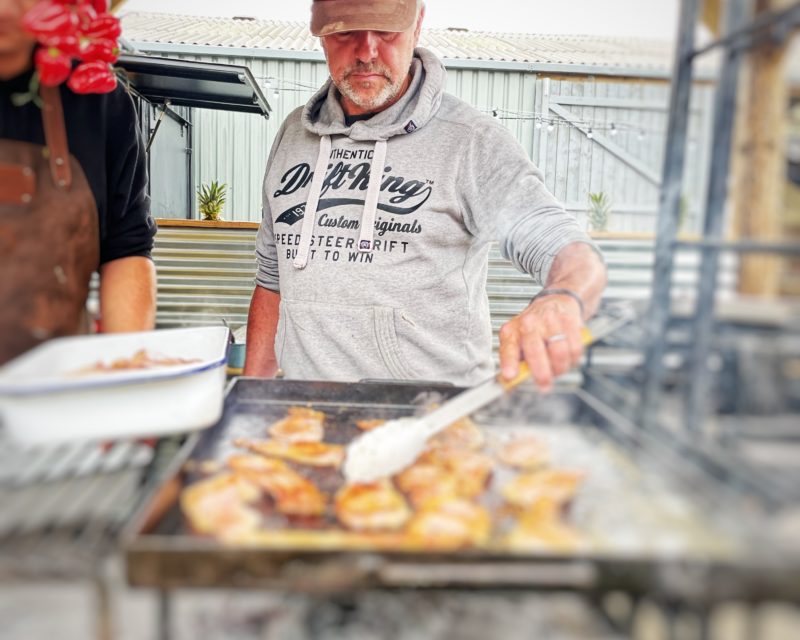 Sunday Lunch
A traditional British Sunday roast cooked South African Style on the fires. Served From 12 noon to 3.00pm, you can enjoy our delicious 3 course roast dinners cooked from scratch on open fires, served on sharing platters.  All of you get 3 meats and all the trimmings served with seasonal veg and the best gravy Book your Sunday Lunch here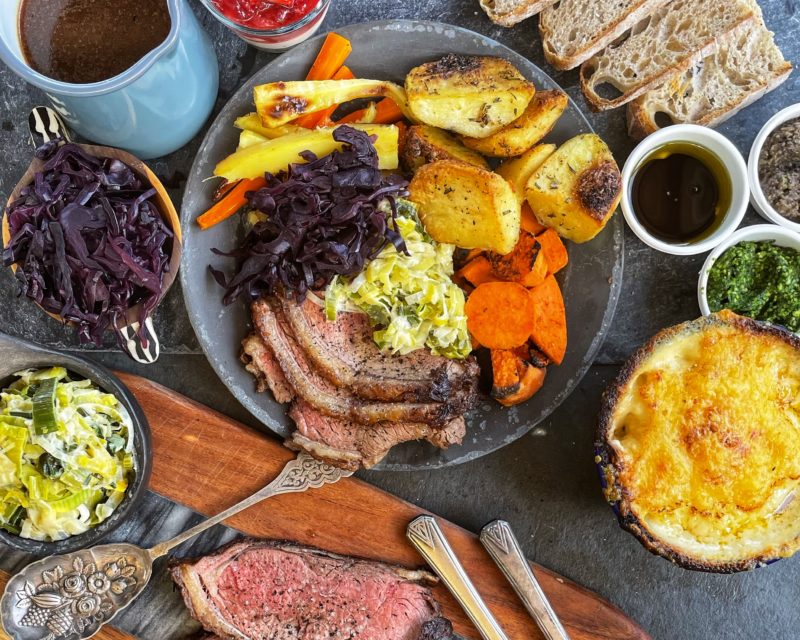 Wild Feasts
From time to time we stop the farm work and based on our seasonal calendar, we cook up a specially curated wild feast based on what's ready to harvest from the fields or foraged from wild ingredients that grow abundantly in the hedgerows or on the estate grounds, all cooked to perfection on open fires. Whether you are dining at our feasting tables in our heated Barns or Outdoors in our Farm courtyard,  Fields or Woodland we promise you a unique experience.  Our food is cooked fresh on fires so it may take a bit longer but with lush local drinks, cheeky cocktails and good friends or family, the time passes quickly.
Do book your early ticket for our Wild Feast or sign up for our newsletters or join us on instagram/facebook to be the first to know. These are £60 per adult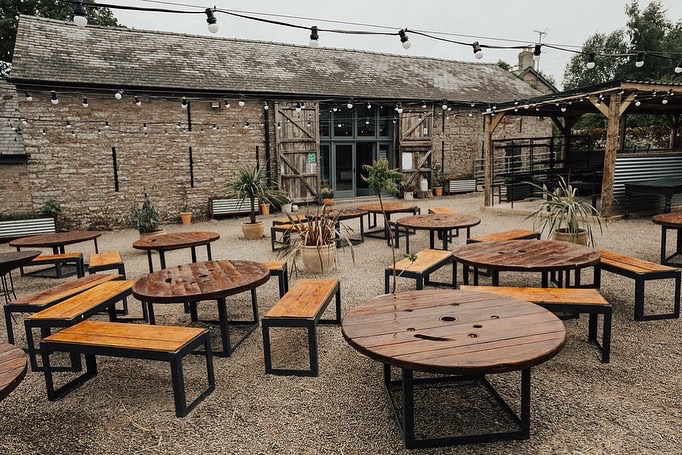 Cocktail Bar
If you would love to bring your tribe just for cocktails, we have a fully stocked bar with an amazing range of beautiful local gins. Local cider, beers and ale. As well as spirits and shots. Our farm inspired cocktails are lush and we have an in-house mixologist to custom make cocktails for your big event. Just make sure we are open. Normally when serving food. Be sure to try our
Coco Loco
Brimble Bramble
Tippy's Tipple
Carmel Sutra
Drovers Zest
We also have seasonal foraged cocktails during the season